Not all pinots are the same!
This week's wine of the week is a Pinot Bianco from Tuscany, Italy.
Although they are related, Pinot Bianco is not to be confused with Pinot Gris or the ever popular Pinot Grigio.
Pinot gris and pinot grigio are generally the same grape, but are often made differently. For example, pinot grigio is often mass produced, light and crisp, which is nice on a hot summer day. Pinot gris often has more character and is more serious. It is often crafted in smaller quantities, can take some barrel age and usually commands a higher price point.
Also, I find there is a difference in the taste profile of pinot blanc and pinot bianco.
Pinot blanc from Alsace, France often has a creamy texture and sometimes has a kiss of sweetness. Pinot blanc produced in other areas of the world can be rich or light, and it tends to have medium structure and light acidity.
Pinot bianco, from Italy tends to have an approachable, fresh, zesty, crisp style.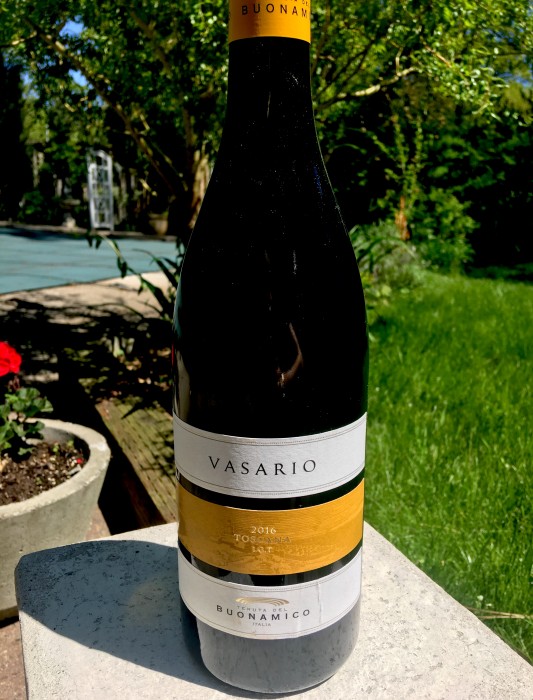 Launched in 1990, Buonamico Toscana Vasario 2016 is 100% pinot bianco and is definitely worth trying! It is grown in Tuscany, half way between the sea and the Appennini mountains, so the grapes get the benefit of both the salty air from the sea and the fresh air from the mountains.  The vines are over 25 years old, which adds concentration to the wine. It is made in very small quantities, spends a few months in oak and is aged for over a year.
It has very forward, rich, tropical aromas, lychee flavours and a crisp, lingering creamy finish.
Serve as an aperitif, with salads, shellfish and spicy foods.
Tenuto del Buonamico Toscana Vasario 2016 Pinot Bianco is available on line and is also part of the "Destination Store Program" at LCBO. There are 17 "destination" stores that offer a greater selection of products from key wine regions. Products that are part of the "Destination Store Program" are only available at their respective designated store. In the case of Buonamico Toscana Vasario 2016, the only store you will find it is at the LCBO at the junction of highways 27 and 7.
For more information about these destination stores and their focus, please click the link below:
https://www.lcbo.com/content/lcbo/en/homepage/destination-collection/destination-collection-store-locations.html
Cheers,
Shari 🥂
Not in Ontario? Try WineSearcher.