Ready to kick off the summer? May 16, the Thursday before the long weekend, is this year's National Caesar Day in Canada.
Our beloved Caesar cocktail is turning 50 years old! In 1969, Walter Chell created the Bloody Caesar, Canada's unique and popular cocktail, in Calgary to commemorate the opening of a new Inn. He mixed tomato Juice, clam nectar, Worcestershire sauce and celery salt together and created what was to become a very popular and uniquely Canadian cocktail.
This is a standard Bloody Caesar recipe:
1 fluid ounce of Vodka
1 
8 
1 celery stick

 
Wet the rim of a cocktail glass with the lime wedge; set aside for garnish. Place celery salt in a small dish, and press the rim of the glass into the salt to coat. Add ice to the glass. 
Pour vodka, Worcestershire sauce, and hot pepper sauce over the ice; top with tomato-clam juice. Garnish with lime wedge and celery stick. Serve with a straw. 
What if you don't have time to make one from scratch?
Mott's Clamato Ready-to-Drink Caesars
may be the solution. They are premixed, in single serve sizes and come in many variations, including Pickled Caesar and The Works.
One of my favourites is The Extra Spicy. It is twice as spicy and the extra kick comes from the jalapeño. This nice blend tastes fresh, savory and bold.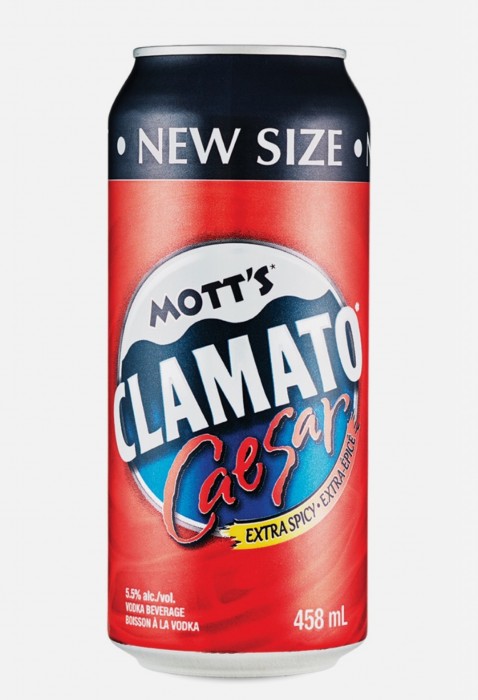 Mott's Clamato Caesar Extra Spicy | 5.5% alc/vol | 458mL can | +334805 | $2.95
Cheers!
Shari