Recently, I had the pleasure of a remarkable conversation with Marilyn Field, the Creator and brainchild of DAREarts at the breathtaking, new Windrush Estate Winery which she owns with her husband and son in Hockley Valley. Marilyn built a charitable organization from scratch to provide underprivileged children with hope. For 25 years she applied her unique skills to empower children and youth in underserved communities to build confidence, courage and skills to help them overcome barriers associated with poverty, bullying, social isolation and violence. By harnessing the power of the arts and DARE values, Marilyn has inspired over 200,000 Canadian children with a lifelong motivation for creative thinking, excellence and leadership through educational experiences in the arts. We shared a glass of Louis Bouillot Perle d'Aurore Brut Rosé Crémant de Bourgogne together in her magnificent, art filled home.
Shari Mogk-Edwards
It is a pleasure to meet you Marilyn. If you were to introduce yourself to someone, what would you say?
Marilyn Field
It's a little more difficult than usual to answer that question right now, as I am in transition between leaving my charity, DAREarts, [to the next generation] and moving to a new venture as a General Partner at Windrush Estate Winery. What I would say is I am a creator and I hope I have been an inspiration to young people to reach for their dreams, unleash their creativity and feel empowered to give to the world the best they can be.
Shari
Can you tell me about your journey?
Marilyn
My mother passed away when I was two and so the only way I knew my mother was through her art. I would find pieces of her work in cupboards and drawers over the years. She was very creative. She drew, sewed and played piano, violin and mandolin. The arts helped me accept my mother's passing. When I became an elementary teacher in Scarborough, I related immediately to many of my students. I chose to supervise most of the arts classes in addition to my formal responsibilities. This included the annual musical and other events that enabled me to share my love of the arts with them. Interestingly, the children would be smiling and waiting outside to get into the school to practice together when I arrived at 7:30 in the morning! Among other skills, I would teach them to paint and to sing; how to play the flute and act; and I would lead the band practices. I simply let the students flourish while I shared my experiences with the arts with them. I began to realize that teaching the arts to children enabled them to find their own joy and hope.
Shari
Perhaps you could tell me about the charity you built from scratch, DAREarts.
Marilyn
DAREarts began in 1994 when I was on leave from teaching in an elementary school in Scarborough, Ontario. I felt compelled to ignite positive change for young students. As a teacher, I had a very different approach and I often had to break the traditional rules of teaching to get the most out of my students. I took students to the opera, played classical music for them and demonstrated to them that they mattered, were worthy and had potential. The charity allowed me to spend my time and focus on programs to get the most out of these challenged students.
Shari
How did you start your organization?
Marilyn
My husband suggested I take my theories and start a charity to help children. I decided to engage the schools in the district where I had worked. Initially, I contacted the 10 principals and presented them with my plan. I suggested we take the children out of the classroom, during school time, for one day a week for 10 weeks. I wanted to help children in lower socio-economic situations and prove that the arts could help them become their inner leader. To my surprise and delight, all principals agreed! We started with two students from grade four from each of the 10 schools. The schools were asked to identify those students who would most benefit from the program. We wanted to work with the at-risk, the bullies, the bullied, the down in luck, and the 'failures'. The first day we would sit in a circle. I would tell the students they were special and that is why they were there. They had not been considered special before. I would teach by asking questions and the students would find their own answers.
I think we grew leaders by helping them to find their own self-esteem by digging deep. Even after one day, the children began to change positively! It was the responsibility of the participants to present and teach what they had learned at DAREarts to their regular class the day after they attended the program. Their teacher also had to submit a report about the students. It wasn't long before we noticed the perception of their classmates changing towards them. It was transformative behaviour. One of the students told me, "I wasn't a very nice person. Now I am a nice person". We grew to over 40 local schools participating and we eventually became national through word of mouth. DAREarts is now in Toronto, Calgary, British Columbia, Quebec, Atlantic and Northern First Nations. We are expanding the world of about 10,000 students a year.
Shari
Judging from our conversation so far, I imagine you have some unique stories to tell. Can you think of one example?
Marilyn
When I was a teacher, I was known as the Detention Queen! I used what I called the Detention Method. I would play Mozart and use arts to empower the children with hope because they are our future and they deserve the best future they can have. At first, everyone was shocked. This did not last long. Soon students would come to my detentions even if they didn't have a detention! Many changed their behaviour and became very successful. In fact, one even formed their own charity to help others.
Shari
I imagine you must have had many challenges being such a trailblazer.
Marilyn
Finding funds to sustain the organization is one of the biggest challenges for a charity, and DAREarts was no exception. Another significant challenge initially was motivating people and organizations to buy into the potential of these 'at-risk' children. Fortunately, we had over 50 people with a lot of integrity on the Board of Directors over the years. Most of them had a sense of giving. Many gave of their own expertise to the children as well as contributing financially.
Shari
Was there a fee for the students to participate?
Marilyn
Yes, participants in the program had to pay a nominal fee. We set it up this way as it taught another life lesson to the students. Even those who couldn't pay themselves found a way. Relatives, friends or the school would chip in.
Shari
What are you most proud of?
Marilyn
Using the arts to empower kids with hope. They are our future. They deserve to have the best preparation in life. A lot of these children didn't have much hope and I was able to help them with that. The power of the arts enabled them to take action and make their lives the best they can be. It kept them away from drugs and alcohol because they were too busy with music or drawing or looking at different cultures. This opened up a new spectrum of life for them. Seeing the transformation in students after participating in the program is still a tremendous source of satisfaction.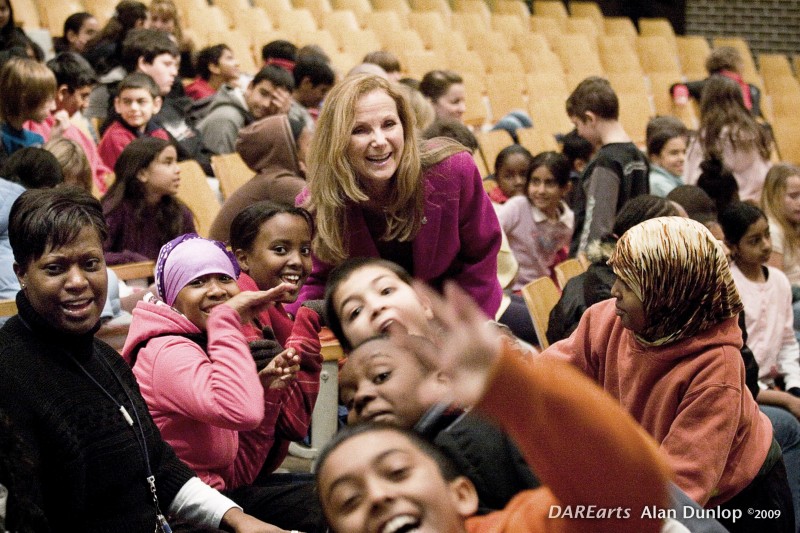 Shari
Do you have a proudest moment?
Marilyn
2001 was the 100th anniversary of the Nobel Peace Prize. I was asked to be the conductor of the children's choir for the internationally televised celebration concert, held in Oslo at the Sports Arena. There had never been a children's choir before. It was a huge honour and a fantastic challenge! There were 60 children from 24 countries, including 13 from Canada. I had one weekend to get ready as a choir while many of the children didn't speak English. I was afraid I couldn't do it. It was difficult to get the right sound. However, we pulled it off! We joined Paul McCartney singing, "Let it Be" after our performance! It was a phenomenal experience and a huge honour.
Shari
You leave behind an incredible legacy. What would you tell your younger self?
Marilyn
Get out there and dare yourself every day! Find your own courage. I used to put myself down. I lacked self-confidence. Now I tell others to dare to be the person they can be. I am a perfectionist but nothing is ever perfect. Realizing and accepting that is a big step forward. We just have to DARE. The A in Dare is action. Just get out and Dare yourself to 'do' every day.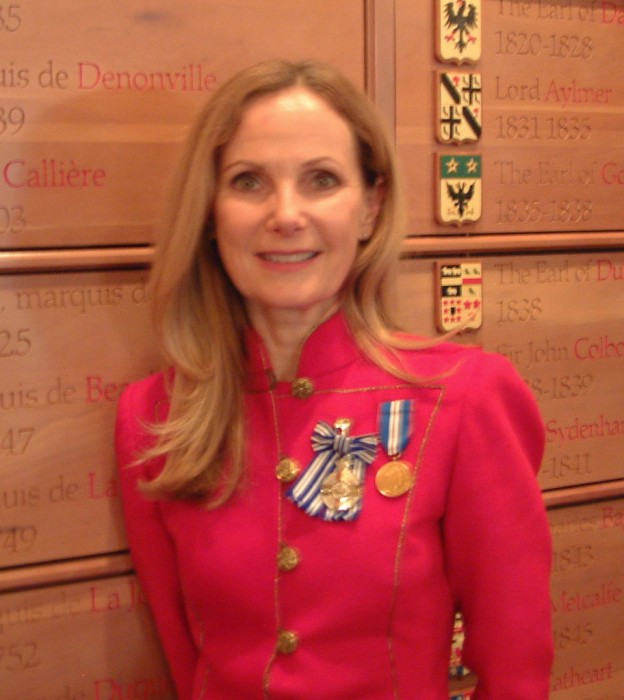 Shari
What about the future? Would you like to continue to develop children?
Marilyn
I am passionate about giving back and I would love to train trainers to teach my techniques. I have been invited by other countries to help develop their arts education programs. My new chapter of empowering youth will be through my new '2020 World' program to guide young teachers and education administrators around the world.
Shari
Please tell me a little bit about your new adventure in this beautiful place.
Marilyn
This was meant to be. We initially bought this property, perched on the north bench of Hockley Valley, for a wind farm but we found this wasn't the best place for that. So we took a closer look and noticed it had all kinds of wild grapes growing on it. To our surprise, we discovered we had the right soil and a unique microclimate to grow grapes here. Moreover, Adamo Winery, started four years ago, is a few miles from here. So two years ago, we decided to chase a new dream and build a winery. Our name, Windrush, already appropriately describes this property high on the bench with great views. Initially, we are buying grapes until Windrush's vines mature.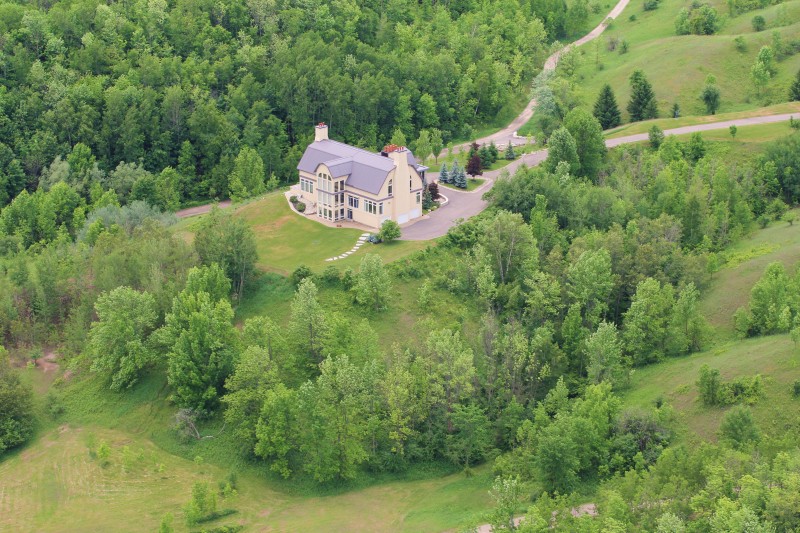 Shari
Why not tell me about the launch of your brand new winery?
Marilyn
Windrush Estate Winery is launching our first wines in April: a harmonious 2017 Pinot Grigio and a bold 2018 Pinot Noir to retail for $24.99. These will be served through select GTA and local Caledon-Dufferin-Simcoe area restaurants. They will also be available to the public through www.WindrushEstateWinery.com. As well, our retail store on-site at the winery will open for private coach tours. My husband and I will be hosting these tours with wine tastings, emerging artist concerts in Chateau Windrush and winery and vineyard visits, followed by stop-offs at other Hockley Valley area establishments: a Cidery, maple syrup farm, art studio and lunch. Later this year, Windrush Estate Winery will release a limited growers' reserve of legendary vintner, Jim Warren's Classic Chardonnay.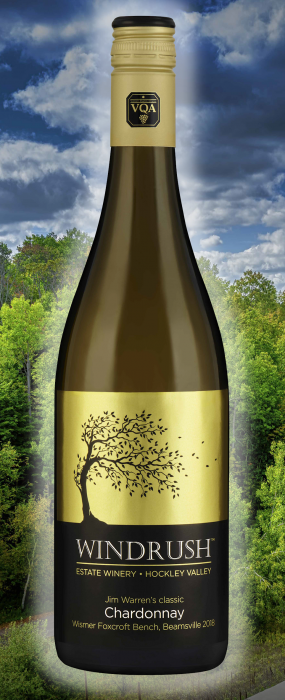 Shari
Switching gears for a moment, do you have a favourite travel destination?
Marilyn
I love France! Paris is a favourite and so is the Beaune area of Burgundy. The small towns in France have a wonderful sense of history. The wines and food are fabulous. I had the best tasting peaches I have ever had while on a visit there! Also, visiting Shanghai was an eye-opening trip for me. I was fascinated to see how progressive the city was. I want to go back!
Shari
I have one final question to ask you. Do you have a favourite wine?
Marilyn
I LOVE dry Champagne!
Cheers!
Shari 🥂