While we are still in the thick of hockey season, you may want to know The NHL Alumni Association teamed up with J.P. Wiser's Hiram Walker & Sons Ltd (named Distillery of the Year by the Canadian Whisky Awards 2018) and their talented master Canadian whisky blender, Don Livermore, to make regional Canadian Whiskies inspired by some of Hockey's greats. There is an exciting new limited-edition lineup of Canadian Whisky out there called the Alumni Series! Some will remind us of our beloved hockey players including a few from the Leafs. Just like the playoffs, once they're gone, they're gone.
Just released at LCBO is the Lanny MacDonald edition. Described as wheat focused, it is aged for nine years in oak barrels. It has complex, rich, smooth, sweet spice cake aromas and flavours that also last well into the finish.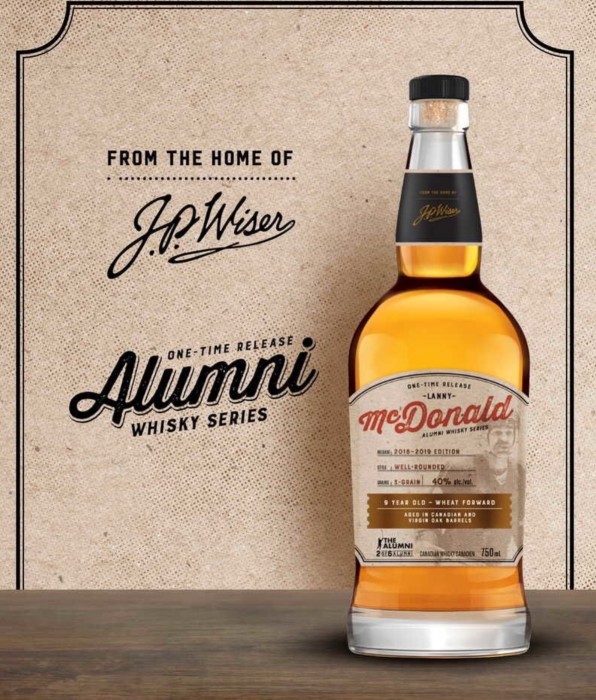 Lanny Mcdonald – Alumni Whisky Series | 750mL | 40% alc/vol | +644302 | 
$44.95
Other current releases (in very limited supply) in the series include Wendel Clark (+ 634477) and Guy Lafleur (+683387). Future releases of Darryl Sittler, Paul Coffey and Larry Robinson are in the line up. Stay tuned!
A percentage of the proceeds from the Alumni Whisky Series will be given to NHLAA for philanthropic purposes.
Cheers!
Shari 🥃
Not from Ontario? Try WineSearcher.