We officially launched Sharispx in November 2018 and to get to know our followers a little better, we had a contest for a private, complimentary consultation to ask me everything you wanted to know about wine but were afraid to ask!
A big congratulations goes to our winner Jelica Greenwood, a leader in the fashion industry in Canada. We met in downtown Toronto in January. I was humbled to learn she leverages insights from my blog posts to help her make wine purchasing decisions.  Jelica is a self-described "foodie" and it's clear she entertains a lot. She explained that my recommendations have already helped round out her already amazing dinner parties!
Jelica's Question:
I'm a "foodie" so I cook and entertain quite a bit, and it's becoming more and more important for me to be able to complement my dishes with the right wines.  My regular guests love it and often comment on how much I'm getting things right.  It helps that a friend of mine is an expert!  Recently a suggestion of yours was a perfect match to my wild boar pasta and I received a lot of compliments on that!  I big thing I'd like to know the most is how do I properly pair wines with food?
Shari's answer:
Always remember – pairing wine and food is fun! Decide if the wine or the food is going to be the star. There are certain rules of thumb that you can follow – and always remember rules are also made to be broken. As a starting point, consider pairing lighter food with lighter wines, heavier foods with heavier wines.  You're either looking for a pairing or a contrast between the wine and the food.  For example, blue cheese pairs with a sweet wine like a Sauternes and it's amazing. Sour and bitter with sweet is like heaven.  Another more expected, and great, pairing is Sauvignon Blanc with a simply cooked white fish like sole. Scallops cooked with a white wine and butter sauce pair with chardonnay – the richness of those two make the pairing perfect.
The LCBO classifies wines on their shelf tickets.  For instance, something could be "Light & Crisp" or "Full-bodied & Rich".  So, if that's the type of wine you like, or are looking for, try different varietals and use the description as a guide!  I also suggest you take a look at the shelf ticket and read the grams per litre of sugar. To pair with food, my recommendation is not to go over wines with 5 grams per litre.  These popular sweeter wines are produced for people with sweeter palates, who may be used to drinking soft drinks or sweet coffee offerings from Starbucks.  That's the joy of wine. There is something for everyone!
Having said that, there is a slight exception. And that is sparkling wine because with a second fermentation, an added dosage of sweetness is necessary and can cause the wine to taste a tad sweet.  In that case, try to not go over 15 grams per litre.  The high acidity in sparkling wines also helps the wine to taste dry.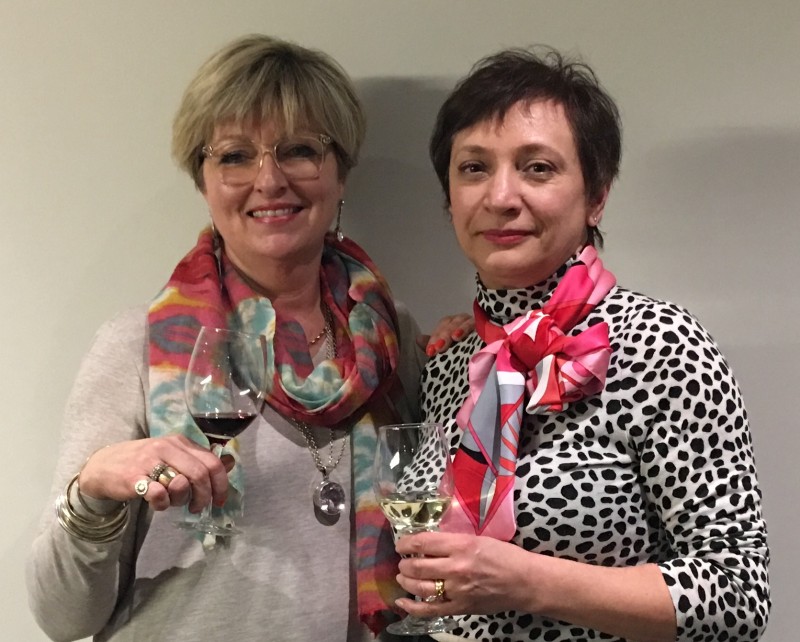 Jelica
What if the menu selection is quite mixed from appetizer through to dessert?
Shari
If you are unsure what to serve, or in the case of a diverse menu, you can always opt for a dry bubbly. It works with almost everything.  And spicy food is a good match with fizz or beer.
Jelica
I have less experience with reds and I tend to like the lighter ones.  Do you have any recommendations there?
Shari
Pinot Noir is on the lighter side. It is a great food wine and a good catch-all and is a great pairing with salmon. Try Gamay, or a Beaujolais, with turkey or ham. For steaks or grilled meats, Cabernet Sauvignon and Merlot are a good match. I find guests like Merlot a little better as it is often more balanced and smoother than Cabernet Sauvignon that is often considered to be more hearty.
And if you are looking to pair heavier foods or game, Shiraz is your answer.
Shari
Let me turn the question back to you.  If you could have anything tonight, what wine would you choose?
Jelica
It would definitely be a Rosé.  I've come to love them – they are the nice middle ground between white and red.  They go really well with pork chops.  My favourite these days is Côtes de Roses Rosé– it is a pleasing wine in a gorgeous bottle and it makes a great gift!
Shari
A dry Rosé is a great choice with pork because it is extremely versatile.  Pork is really a white meat at the end of the day.  It would also pair well with chardonnay or a light red wine.
Jelica
What do you do with people who say they can't drink reds because of the headaches they get?
Shari
I hear this a lot and I can't really say why some reds affect some people that way.  It might be the sulphites, or the tannins.  I do know of an item that is available online that seems to have some success in reducing the affects or sulphites called Kleerwine.
Here is a little unrelated tip: people tend to serve red wine and room temperature.  It should actually be slightly chilled as if it had come from a cellar.  It will taste fresher and more refreshing. And by the same token, whites should never be served over chilled.  Extreme temperatures are not required. I often take my white wine out of the ice bucket in a restaurant!
Jelica
Okay, now the lightning round!  Cheese course?
Shari
I would definitely serve fizz because it's too difficult to match various different cheeses with one wine.
Jelica
What about a veggie board?
Shari
I think I would serve Sauvignon Blanc or a nice Pinot Grigio– a light crisp white for light food.
Jelica
And what about Paella?
Shari
Hmmm… I would serve a Grenache or Tempranillo from Spain with that.  Both are good varietals with food. This raises an interesting point. When you're serving regional dishes like paella, think about the wines from the areas where the food is originated.  As an example, pasta from northern Italy pairs well with Chianti from the area, Red Bordeaux is a classic pairing with duck from the area.  It just makes sense.
Jelica
And what about when you're cooking with wine?
Shari
I believe, if possible, you should cook with the wine you are planning to serve – if it's a special dinner.  For every day cooking I will use what I have available in my kitchen, or if I have something left over from the evening before.  However, I would never cook with a wine that I wouldn't drink.  The flavour – good or bad, will come through in the cooking.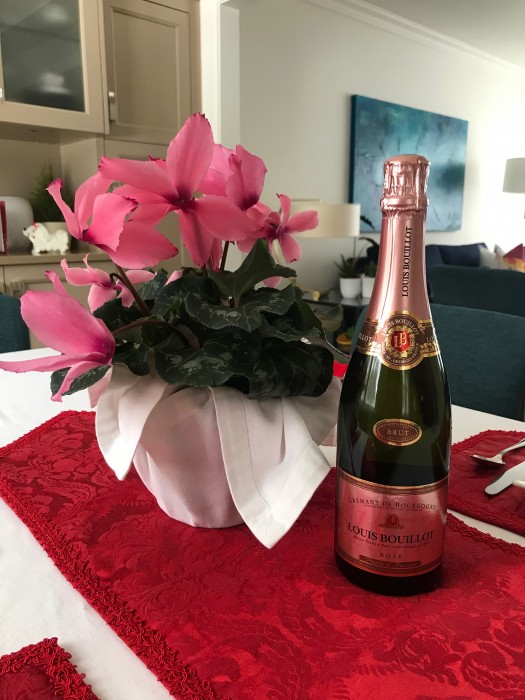 Jelica
Thanks Shari – I am walking away inspired with a wealth of information!
Shari
My pleasure Jelica!  I love your passion and enthusiasm.  And can't wait to hear how your entertaining grows!
Cheers,
Shari 🥂